How to create contracts from CRM and ERP
Sales team spend time on administrative tasks like creating agreements or other supporting documents for every opportunity. Leads details from CRM and opportunity line items are copied to proposal templates, which increases the response time to client. Repetitive manual operations also lead to mistakes and automated process must be implemented to create sales artifacts.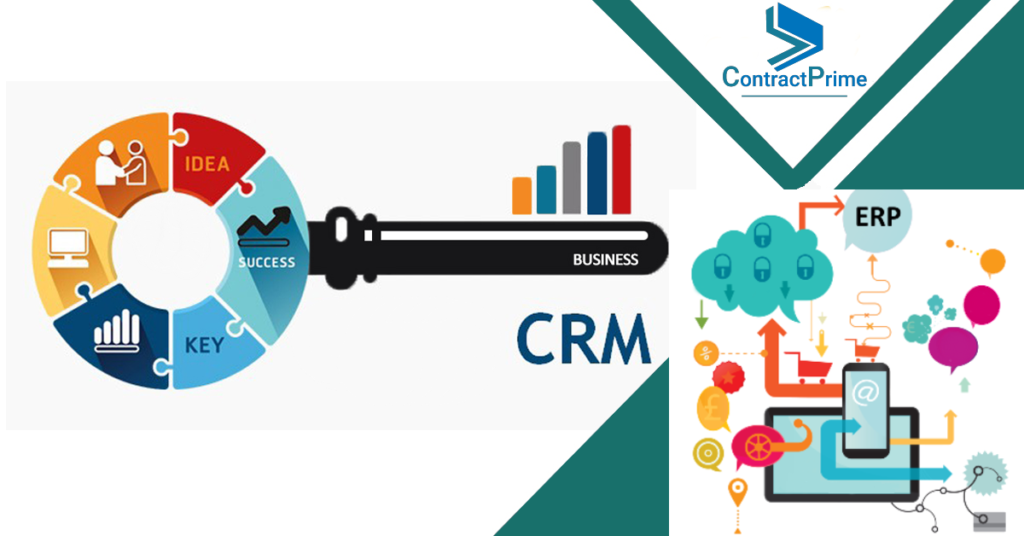 Written by Knowledge Team, posted on Aug 13, 2022
Empower sales team with tools to create proposals with compelling details to close deals faster. Create quotations and fee agreements from CRM or other line of business applications and route to customers for digital signature.
Why we need integrated proposal solution with CRM
Business tracks their leads and opportunity in CRM like Salesforce or Dynamics CRM. Customer information like name and billing details are maintained in Contact and Opportunity entity in CRM. Sales team has created opportunity for the customer with service and product line items clients are interested. When application responsible to create quotations is not integrated with CRM, it feels like waste of time to transfer data, format the generated PDF and to repeat the process when opportunity details changes in CRM. Response to the quotations is not updated in CRM and must be tracked separately leading to confusion and incohesive reporting to management.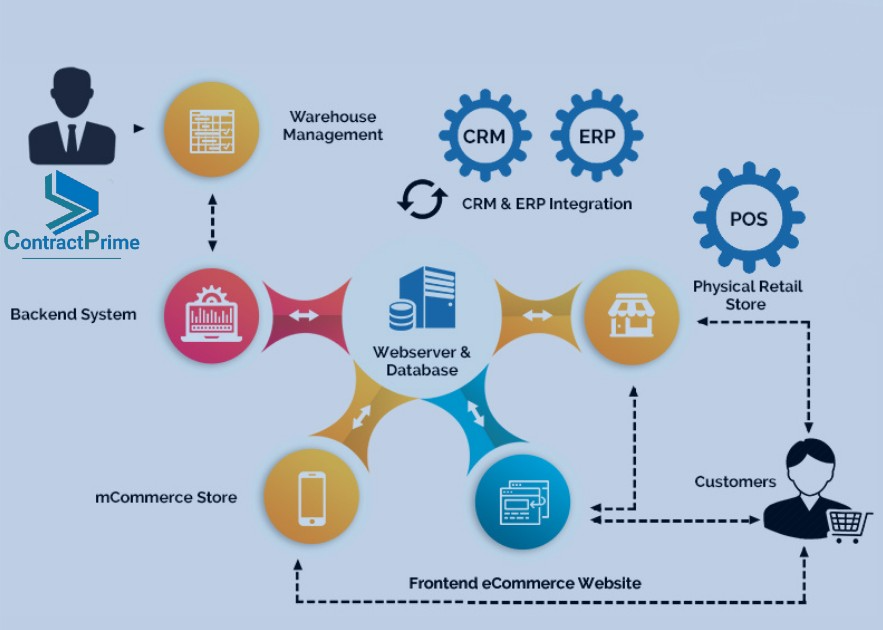 Contract automation for personalized proposals
Sales teams trained in CPQ process needs customized sales documents like, quotations, NDA, and SLA tailored to lead or sales process unique value proposition. Increase client engagement by effectively using CRM data to improve CPQ process. Clients will receive sales proposal package containing set of documents in specific order and branded to prospect's requirements. Signature bundle is routed for approvals and collection of digital signatures from both parties. Executed contracts are stored in ContractPrime contract repository and status of the contracts are synced with CRM when the documents progress through workflow stages. Signed and executed documents are accessible from the opportunity page making CRM as the single point to access sales data. Sales people never leave CRM or ERP application to create sales documents.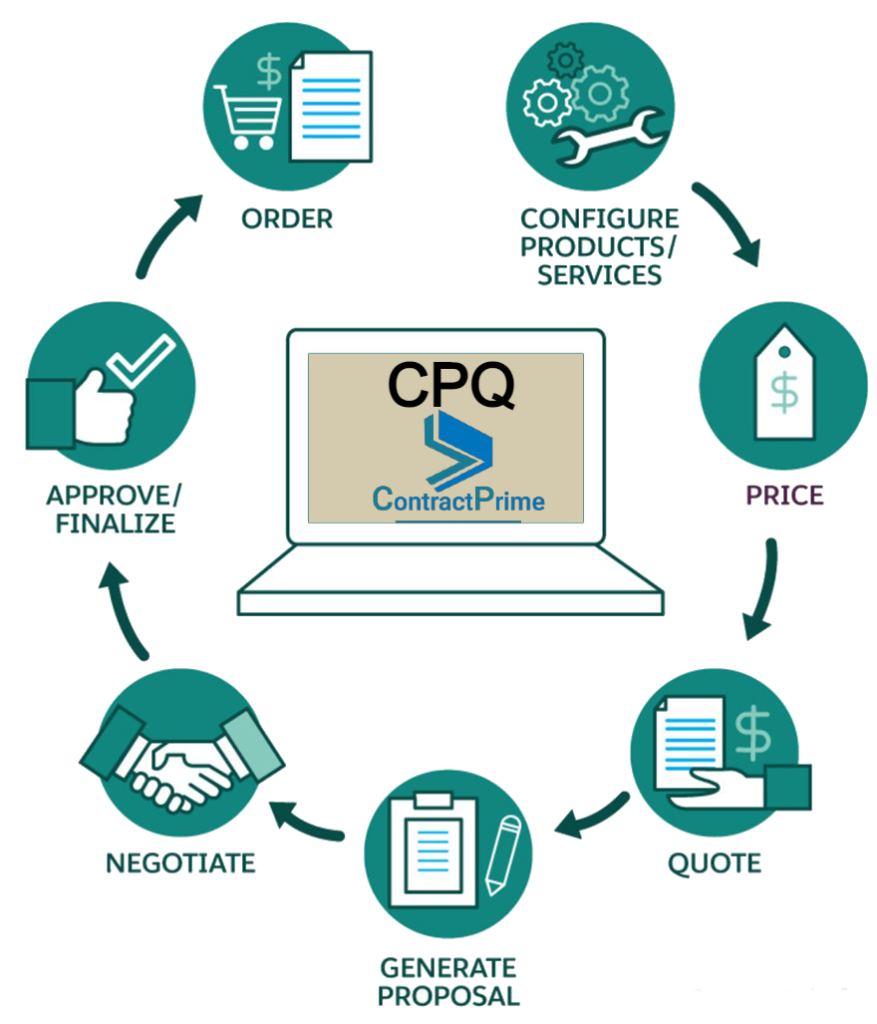 Create Contracts, Quotes, Proposals in CRM with ContractPrime
Contract management software from ContractPrime will generate sales proposals with the required legal and regulatory disclaimers, headnotes and addendums as defined by your legal team. Seasonal greetings or messages to the clients can be included on conditional basis. Sales team will enter all the Opportunity details and push a button to generate documents.
The following are the steps to generate automated contracts from CRM
Integrate with CRM
Setup the connection with the external business applications. Open the integration module under settings section. This can be accessed only by Administrators Select Dynamics CRM or Salesforce from the list of Apps available. Users will be prompted to be authenticated to access entities required for the generating sales documents like, Contact, Leads, Opportunity and Price book.
Template design in ContractPrime
ContractPrime super users will develop templates from Microsoft Word document. Alternatively, users can start the template design from existing templates and make necessary changes. Add the fields available in CRM in the templates to transfer data from Contact or Opportunity to generate contracts. ContractPrime contract workflow software can insert clauses based on conditions like opportunity value or customer billing address. Marketing and contact details are included, along with any personal message from the sales team.
Design approval process
Approval process can be serial or parallel. Approvers are based on business and opportunity properties. For example, department head approval is required when discount is greater than allowed variance. Admins must configure steps and conditions to retrigger the approval process like when document redline occurs or change in document properties, either in the contract software or opportunity details are updated.
Specify signatories and signing order
Specify signatories and signing order. Select internal and external signees for the proposal. Internal signee is configured based on department or prospect properties. Client-side signee are assigned from opportunity contact.
Configure contract repository
Once the contracts are executed, signature coordinator enters additional document metadata and saves to contract repository. Configure the fields which needs to be captured during the execution stage. This could be notes or setting up critical date notifications like renewals or expiry.
Advantages of contract or proposal creation from CRM
Proposals can be created from CRM by selecting the opportunity and clicking the ContractPrime button. Confirmation message with the contact and opportunity value used to assemble documents are presented. After validation contracts are created and contract workflow software will route document package for approvals.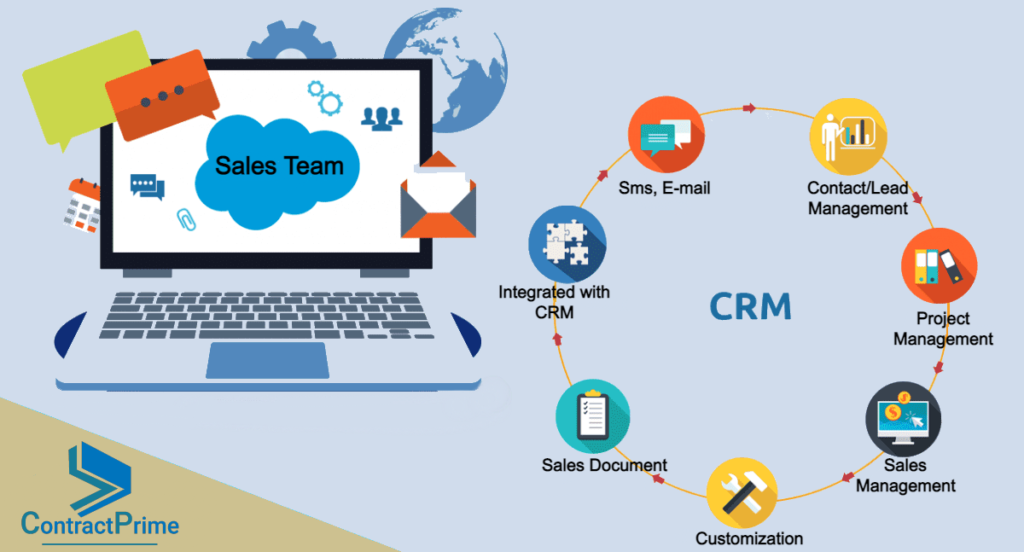 ContractPrime integration provides following advantages for sales team.
Organize sales proposal packages
Implement client and opportunity hierarchy to save the contracts. File plan helps to identify documents by search or intuitive way to locate the documents.
Link contract repository to CRM
View the assembled documents from CRM opportunity screen. This helps sales teams to track the status of the contract documents and reach out to customers if they have any questions.
Update documents on Opportunity refresh
ContractPrime triggers will monitor any changes to the opportunity and update the sales documents accordingly. Reroute the documents for approvals when key parameters are changed.
Meet regulatory obligations
Prevent unauthorized sales proposal creation or edits by contract security features. Sales teams are provided with only necessary access permissions as per business requirements to manage the workflow.
ContractPrime contract lifecycle management solution increases the efficiency while implementing institutional sales process. Set up the integration in less than an hour to provide your client facing team tools to communicate with their clients, with personalized contents.