Contract Automation
Process of creating, reviewing, approving, and storing contracts online to satisfy business and compliance obligations with the help of legal technology. Self-serve routine and standard contract, legal and business documents within business and legal guardrails. Build repeatable process for managing business relationship with external vendors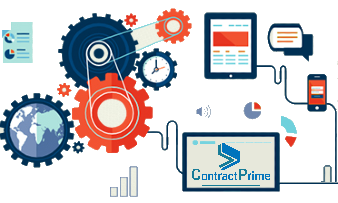 Written by Knowledge Team, posted on June 5, 2022
Basics of contract automation software to help business generate simple to complex documents. Allow business users to negotiate with confidence by generating standard documents with clauses approved by general counsel. Generate reports against Contract repository to gain insight into commitments and deliverables.
What is Contract Automation
Use of technology to assist legal and business users to self-serve in the creation of legal documents, customized to specific business and compliance needs, without need to involve lawyers. It can be described as the process of generating, managing, and storing contracts digitally to create a more efficient contract workflow.

Contract automation can be achieved in several ways, like using legal automation software or the execution of smart contracts. More commonly, lawyers and business users they enable rely on digital legal ops software, which can deliver the efficiency with automated contract lifecycle, without sacrificing the contract integrity, provide contract collaboration with counter parties, and implement negotiation approval workflow, and tracking of audit logs.
For instance, ContractPrime contract automation software allows users to create follow up tasks at every stage of the contract workflow, from generating contract documents from templates to automating approval workflow sequences and setting up renewal reminders based on regulatory and industry needs.
Why Automate Contracts

Implementation of SOP is the reason driving the automation
Contracts based on standard contract types like NDA, MSA or Employment agreements which does not need any bespoke annotations can be assembled by business users.
Identify contracts easily, as all contracts are stored in single location which can be searched by different metadata like counterparty, value, and expiration date.
Contracts which are marked as high risk can be routed to legal department for further review.
Track critical dates once the contract is executed so obligations are validated.
Possible integration with Matter management for the solution to evolve as Legal Operations platform for collaboration with external law firms.
Business dedicated in the legal technology will get full exposure to Contracts, to track deliverables and risk associated. Proactively staying on top of contracts includes complex tasks like validating huge number of agreements post execution, crossing multiple milestones and reporting requirements for different stakeholders.
Switching to automated solution for Contract Management process can greatly deliver the key benefits. Below are the steps involved.
Steps in Effective Contract Automation
Automated Contract Drafting
The Contract drafting process can be automated with centralized templates that can insert clauses, precedents and milestones based on contract conditions. Contract information are collected from business users through interview type questionnaires. Automated contract management software takes full control over the quality of the draft. Standard contracts (like NDA) can be created in a much simpler manner without the need to depend on legal department. Contract templates and CLM are still managed by in-house lawyers.
Contract Negotiation
Automated Contract negotiation helps to manage the contract workflow end-to-end, including tracking the changes made in contract for accuracy and consistency throughout the negotiation phase. Enable external collaboration with counterparties than depending on email for communication.
Contract Approvals
Contracts approvals are based on Contract types and other custom contract metadata. Approvals must include internal and external stakeholders. With an automated contract management system, this can be done electronically and even on mobile devices, decreasing the contract cycle lead time, and navigating the quickest route to execute the agreement.
Contract Execution
Signed contracts are tracked through the lifetime for critical dates with the ability to send reminders. Contracts are converted to records and the Information Lifecycle Management (ILM) policies are applied. Contract fulfilment obligations can be extracted by the system and converted to tasks.
Amendment & Renewals
Contract repository is the single place of truth for the latest version of the executed contracts. Amendments and Renewals can be created and linked to the existing contract. Renewal cycle negotiation and approval process can be customized. Document comparison features can track all the changes to the contract document. Any changes triggering the risk level can be routed to legal department automatically for validation.
Benefits of Automating Contracts

Allows easier access and retrieval of contracts for business users, with security implemented as per business requirements.
All contracts can be stored in a central repository using automated process. Searching for business terms, contract clauses and obligations is easier. Without an optimized repository search feature for contracts can be expensive, time-consuming, and distracting.
Contract Management Software is the most cost-effective solution for automating contract creation and managing the various stages of contract lifecycle.
Tracking critical dates, the software offers provisions for automated reminders in the form of messages or e-mails.
Helps in-house legal teams work focused and smarter by working only high value contracts.
Solution provides visibility and insight to better manage risk and ensure compliance.
Automated tracking of contracts makes it efficient to monitor the lead time, aging and renewal triggers of individual contracts and to spot contract trends that can improve the profitability of organization by eliminating bottle necks and decreasing the risk exposure.
Reconciliation, negotiation, and approving contracts can happen in automated way for standard contracts.
ContractPrime Contract Management
Legal operations platform built on Office 365 is a one stop solution for General Counsel to manage their daily responsibilities. Contract management, client matter workspaces, Legal DMS, budget tracking for external law firms, collaboration are all integrated in the cloud solution. Different constituents like business users, external parties, and law firms can be managed by in-house counsel so compliance and business requirements are satisfied.